Every Space. Every Season. Every Budget.
Consultation, Design, Installation & Maintenance – we've got you covered!
No Space is Complete Until the Plants Arrive!
Our Vision is a greener planet where everyone can benefit from the restorative power of plants.
Our Mission is to beautify the world and make people happy with inspired plant designs that bring nature into your home, office, and commercial space.
Personalized Service is our Specialty
Our professional plant experts know how to make your space more beautiful with a seamless process from start to finish. Indoor, outdoor, and everything in between – we specialize in stunning plant designs that flourish in any space and fit every budget. From large-scale green walls, bold seasonal arrangements, and low-maintenance containers, our inspired botanical creations bring the healing power of plants to your doorstep, lobby, and desktop.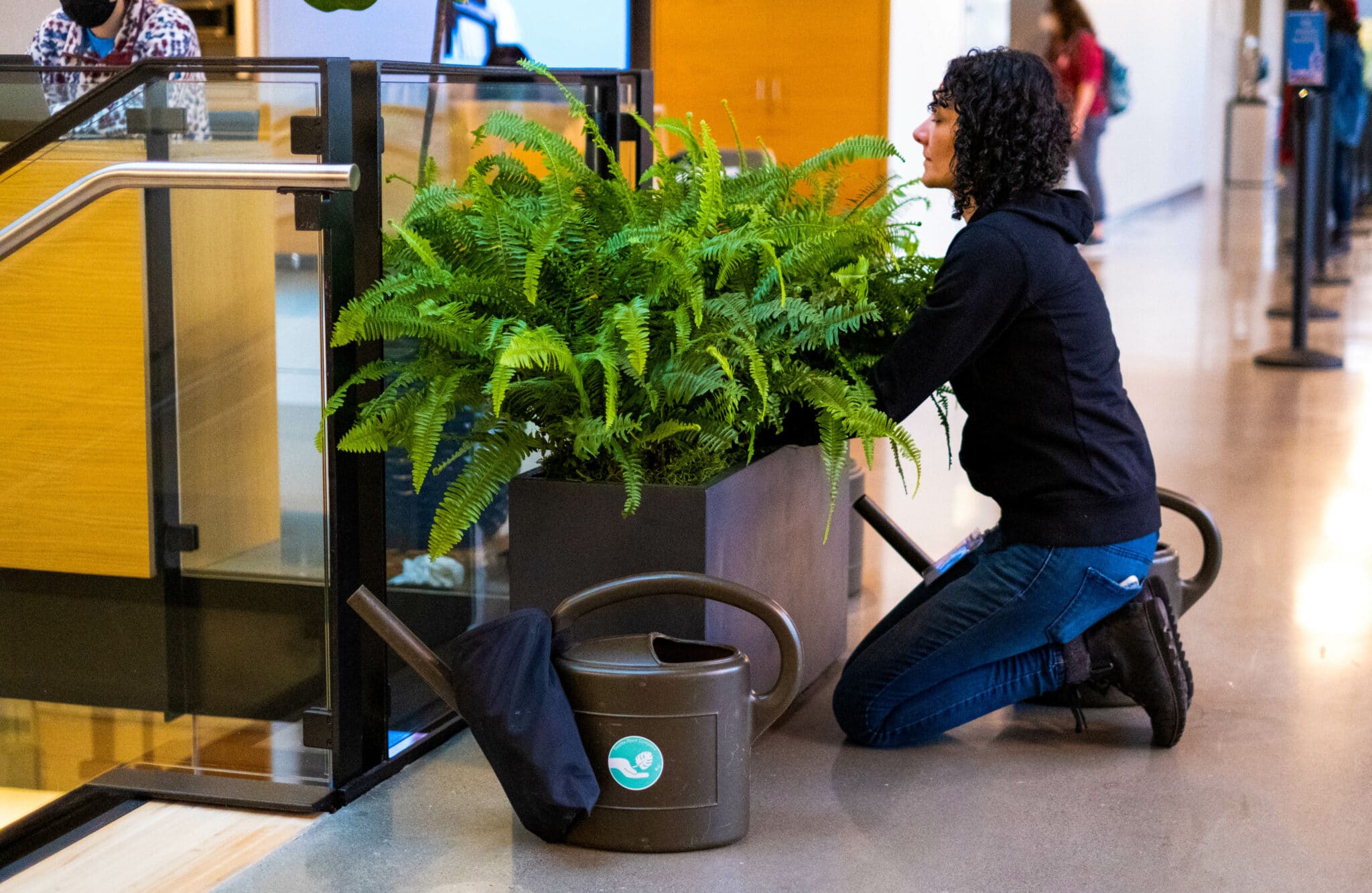 Designing. Installation. Maintenance.
Meet the Owner
Michelle Ritter, Founder & Owner
Michelle is the heart and soul of our company. Her passion for plants and desire to make people happy with artful creations led her to found Seattle Plant Company in 2020. As a female entrepreneur, she is a certified trainer with Green Plants for Green Buildings and a lifelong advocate for Biophilic Design.
With more than 25 years of horticultural expertise in the Pacific Northwest, her team creates award-winning interior & exterior plant designs that soothe, inspire, and transform every space. Michelle believes in the power of plants to affect positive change in our lives – her keen eye for bold sculptural arrangements has made her business thrive and established a loyal clientele.
Our Green Guarantee
Quality, Satisfaction, and Professional Service
Our customers' needs always come first, and we strive to deliver the most professional, responsive, and personalized service on every project. That's why we're dedicated to procuring the healthiest plants, soils, mulches, and botanical products for your installation – sourced from reputable regional growers and top-tier nurseries. Our Green Guarantee ensures that all our living arrangements will thrive in your site's unique environmental conditions.
We Know Plants
With decades of hands-on horticultural experience, we're experts in selecting the right plants for your space. And firm believers in the principles of Biophilic Design to improve your quality of life.
We promise our plant designs will exceed your expectations in beauty and performance. This is why site assessments and design consultations are the most important part of our design process – they allow us to provide highly personalized service and custom designs for every client, big and small.
Work with Us – Are you ready to transform your interior or exterior space with stunning botanical designs that inspire creativity and soothe the senses? Let's Chat!
Our Design Process – If you'd like to explore collaboration opportunities with Seattle Plant Company, we're happy to set up an initial design consultation at your convenience to discuss your project, budget, timeline, and site. Following a site visit, our design team will then provide a custom design proposal and project bid. Our schedule often books out months in advance, so don't delay…